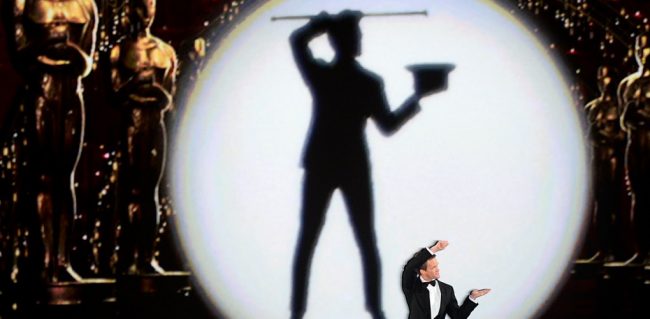 Originally published in Cultural Weekly on February 25, 2015. 
The Oscars are the best and the worst of television — they are appointment viewing worldwide, yet everyone hacks them to pieces as the show plays on.
I thought the 87th Academy Awards was a good event: producers Craig Zadan and Neil Meron struck the right balance of honor and irreverence, and Neil Patrick Harris made his hosting duties look effortless. Not every line zinged, but it never does, and there were enough buoyant moments to keep the evening afloat.
Indies Rule
The Oscars were yet another moment to applaud independent cinema, as the indies swept every major award category. (For a list of all the winners, with indie movies highlighted, see below.)
The studios are not creatively bankrupt. They can still make great movies, and execute scale in a way no one else can. Guardians of the Galaxy and Interstellar, two films from 2014 that represent unique and unconventional creative choices, albeit in vastly different ways, are only possible with massive studio budgets and operations supporting them.
Yet the demarcation between studio films and independent films has never been clearer. Studios make gigantic movies with known brands, with a brand being a franchise, like the Divergent novels or 50 Shades of Grey, a famous director, like Christopher Nolan, or comic book heroes from the DC or Marvel universes.
Indie movies are more personal and do not need to achieve global box office success to make back their investment. This is true even as the average budget of independent movies has grown, thanks to smart, entrepreneurial new financiers willing to take risks on creative vision.
The ratings for the 87th Academy Awards were down 16% from the year before, owing largely to the fact that fewer people in America saw the movies that were nominated and won — because, again, most of them were indies. So while the Academy is still one of the oldest, whitest, most male organizations around, and has a big blind spot when it comes to race, Academy voters do validate the quality of independent cinema over routine studio fare.
It's further demonstration that there is no relationship, positive or negative, between commercial viability and artistic accomplishment.
Highlights and an Internationale
What else did I love?
The Oscars were also a celebration of the international presence of cinema, with Mexican and UK citizens grabbing gold in abundance. Alejandro González Iñárritu's shout-out to his Mexican countrymen, on both sides of the border, was as welcome a wake-up call as Patricia Arquette's demand for equal rights for women in America.
Julianne Moore finally won. She is the bravest actress I know, and her honest, fearless portrayals of characters others would shun earns my continuing admiration.
"Heil fucking Hitler"" "Heil fucking Hitler!" Yep, they said the F word twice in The Imitation Game clip, showing once again that The Weinstein Company has no truck with parochialism… and that the Academy didn't prescreen those clips carefully. Thank God. Which is in contrast  with bleeping out the "God" in "God damn!" coming from JK Simmons' mouth in the Whiplash clip.
Paweł Pawlikowski, the director of Ida, who demonstrated how to keep the orchestra from playing you off: Just keep talking. The orchestra relented.
Now we know Common's and John Legend's real names.
Lady Gaga won't become the next Barbra Streisand… she will become the next Bette Midler.
John Travolta owning it.
Jessica Chastain calling out "Chiiiiivo!" with sweet affection; that's cinematographer Emmanuel Lubezki 's nickname. Every single one of the nominated cinematographers is a personal hero of mine.
More people from technical areas and executive management in the In Memoriam segment, and deservedly so.
What didn't I love?
Not enough acclaim for Boyhood, which will stand as a landmark cinematic achievement for decades.
The Grand Budapest Hotel was still my favorite film of the year — it is 100 minutes of pure cinema joy. It would have been my pick for Best Picture… but overall, the awards this year were well distributed and honored exceptional people and movies.
Here is the full list of winners and nominees, in the order the Oscars were presented, with independent film winners in GREEN.
Best supporting actor
WINNER: JK Simmons for Whiplash
Robert Duvall for The Judge
Ethan Hawke for Boyhood
Edward Norton for Birdman
Mark Ruffalo for Foxcatcher
Achievement in costume design
WINNER: The Grand Budapest Hotel – Milena Canonero
Inherent Vice – Mark Bridges
Into the Woods – Colleen Atwood
Maleficent – Anna B Sheppard
Mr Turner – Jacqueline Durran
Achievement in makeup and hairstyling
WINNER: The Grand Budapest Hotel – Frances Hannon, Mark Coulier
Foxcatcher – Bill Corso, Dennis Liddiard
Guardians of the Galaxy – Elizabeth Yianni-Georgiou, David White
Best foreign-language film
WINNER: Ida – Paweł Pawlikowski
Tangerines – Zaza Urushadze
Leviathan – Andrey Zvyagintsev
Wild Tales – Damián Szifrón
Timbuktu – Abderrahmane Sissako
Best live-action short film
WINNER: The Phone Call – Mat Kirkby, James Lucas
Aya – Oded Binnun, Mihal Brezis
Boogaloo and Graham – Michael Lennox, Ronan Blaney
Butter Lamp – Wei Hu, Julien Féret
Parvaneh – Talkhon Hamzavi, Stefan Eichenberger
Best documentary short subject
WINNER: Crisis Hotline: Veterans Press 1 – Ellen Goosenberg Kent, Dana Perry
Joanna – Aneta Kopacz
Our Curse – Tomasz Sliwinski, Maciej Slesicki
The Reaper – Gabriel Serra
White Earth – Christian Jensen
Achievement in sound mixing
WINNER: Whiplash – Craig Mann, Ben Wilkins, Thomas Curley
American Sniper – John T Reitz, Gregg Rudloff, Walt Martin
Birdman – Jon Taylor, Frank A. Montaño, Thomas Varga
Interstellar – Gary Rizzo, Gregg Landaker, Mark Weingarten
Unbroken – Jon Taylor, Frank A. Montaño, David Lee
Achievement in sound editing
WINNER: American Sniper – Alan Robert Murray, Bub Asman
Birdman – Aaron Glascock, Martín Hernández
The Hobbit: The Battle of the Five Armies – Brent Burge, Jason Canovas
Interstellar – Richard King
Unbroken – Becky Sullivan, Andrew DeCristofaro
Best supporting actress
WINNER: Patricia Arquette for Boyhood
Laura Dern for Wild
Keira Knightley for The Imitation Game
Emma Stone for Birdman
Meryl Streep for Into the Woods
Achievement in visual effects
WINNER: Interstellar – Paul J Franklin, Andrew Lockley, Ian Hunter, Scott R Fisher
Captain America: The Winter Soldier – Dan Deleeuw, Russell Earl, Bryan Grill, Daniel Sudick
Dawn of the Planet of the Apes – Joe Letteri, Dan Lemmon, Daniel Barrett, Erik Winquist
Guardians of the Galaxy – Stephane Ceretti, Nicolas Aithadi, Jonathan Fawkner, Paul Corbould
X-Men: Days of Future Past – Richard Stammers, Lou Pecora, Tim Crosbie, Cameron Waldbauer
Best animated short film
WINNER: Feast – Patrick Osborne, Kristina Reed
The Bigger Picture – Daisy Jacobs, Chris Hees
The Dam Keeper – Robert Kondo, Daisuke "Dice" Tsutsumi
Me and My Moulton – Torill Kove
A Single Life – Joris Oprins
Best animated feature film
WINNER: Big Hero 6
The Boxtrolls
How to Train Your Dragon 2
Song of the Sea
The Tale of the Princess Kaguya
Best production design
WINNER: The Grand Budapest Hotel: Adam Stockhausen, Anna Pinnock
The Imitation Game: Maria Djurkovic, Tatiana Macdonald
Interstellar: Nathan Crowley, Gary Fettis
Into the Woods: Dennis Gassner, Anna Pinnock
Mr Turner: Suzie Davies, Charlotte Watts
Achievement in cinematography
WINNER: Birdman: Emmanuel Lubezki
The Grand Budapest Hotel: Robert D Yeoman
Ida: Lukasz Zal, Ryszard Lenczewski
Mr Turner: Dick Pope
Unbroken: Roger Deakins
Achievement in film editing
WINNER: Whiplash – Tom Cross
Boyhood – Sandra Adair
The Imitation Game – William Goldenberg
The Grand Budapest Hotel – Barney Pilling
American Sniper – Joel Cox, Gary Roach
Best documentary feature
WINNER: Citizenfour – Laura Poitras, Mathilde Bonnefoy, Dirk Wilutzky
Finding Vivian Maier – John Maloof, Charlie Siskel
Last Days in Vietnam – Rory Kennedy, Keven McAlester
The Salt of the Earth – Wim Wenders, Juliano Ribeiro Salgado, David Rosier
Virunga – Orlando von Einsiedel, Joanna Natasegara
Best original song
WINNER: Glory from Selma – Lonnie Lynn (Common), John Stephens (John Legend)
The Lego Movie – Shawn Patterson (Everything Is Awesome)
Beyond the Lights – Diane Warren (Grateful)
Glen Campbell: I'll Be Me – Glen Campbell, Julian Raymond (I'm Not Gonna Miss You)
Begin Again – Gregg Alexander, Danielle Brisebois (Lost Stars)
Best original score
WINNER: Alexandre Desplat – The Grand Budapest Hotel
Alexandre Desplat – The Imitation Game
Hans Zimmer – Interstellar
Jóhann Jóhannsson– The Theory of Everything
Gary Yershon – Mr Turner
Original screenplay
WINNER: Alejandro González Iñárritu, Nicolás Giacobone, Alexander Dinelaris, Armando Bo – Birdman
Richard Linklater – Boyhood
E Max Frye, Dan Futterman – Foxcatcher
Wes Anderson, Hugo Guinness – The Grand Budapest Hotel
Dan Gilroy – Nightcrawler
Adapted screenplay
WINNER: Graham Moore – The Imitation Game
Jason Hall – American Sniper
Paul Thomas Anderson – Inherent Vice
Anthony McCarten – The Theory of Everything
Damien Chazelle – Whiplash
Best director
WINNER: Alejandro González Iñárritu for Birdman
Richard Linklater for Boyhood
Bennett Miller for Foxcatcher
Wes Anderson for The Grand Budapest Hotel
Morten Tyldum for The Imitation Game
Best actor
WINNER: Eddie Redmayne for The Theory of Everything
Steve Carell for Foxcatcher
Benedict Cumberbatch for The Imitation Game
Bradley Cooper for American Sniper
Michael Keaton for Birdman
Best actress
WINNER: Julianne Moore for Still Alice
Marion Cotillard for Two Days, One Night
Felicity Jones for The Theory of Everything
Rosamund Pike for Gone Girl
Reese Witherspoon for Wild
Best picture
WINNER: Birdman
American Sniper
Boyhood
The Imitation Game
The Grand Budapest Hotel
Selma
The Theory of Everything
Whiplash